10 Ways to Style your Rain Boots with Skirts and Dresses over Fall & Winter!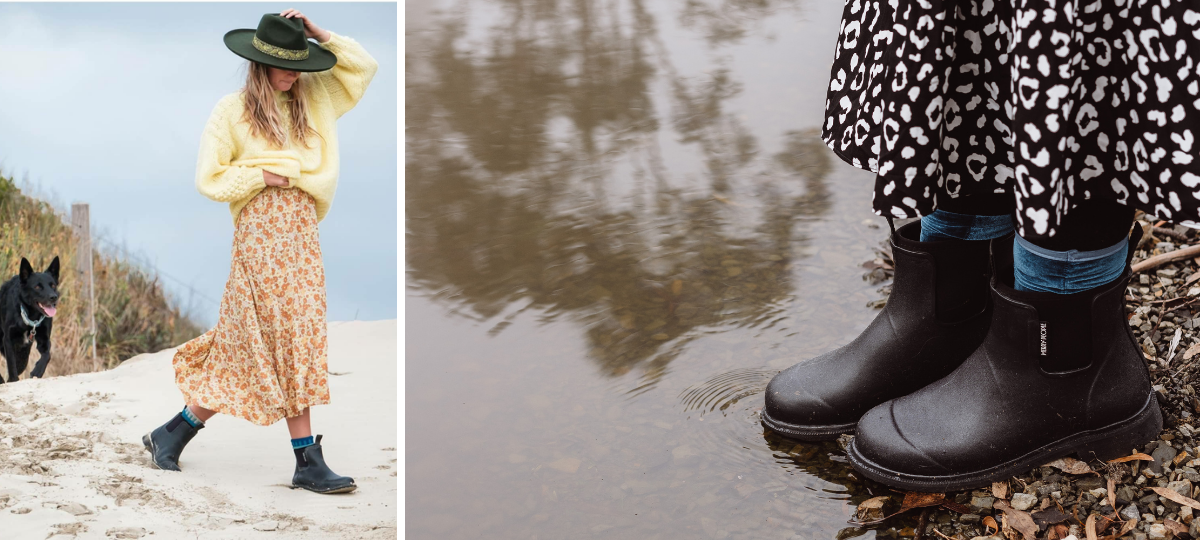 STYLE SESSIONS: Skirts, dresses, and your Bobbi gumboots
With an array of shades and a timeless ankle height Chelsea design, we created our Bobbi rain boot to be a perfect, everyday staple that you can wear year round without ever sacrificing style. And, being a brand from Melbourne (which is notorious for weather that shifts from full sun to frigid rain on a dime) we also believe that you can wear cute skirts and dresses year round.  Simply add some tights, a comfy jumper, a great jacket, and our Bobbi rain boots and you will be warm, dry, and stylish for all your daily adventures!
Keep scrolling for some style inspiration!
***
We love plaid for fall! Pair a plaid midi skirt with your Bobbi Black ankle rain boots and then add a bright rain jacket to stay dry and stylish this season. 
We love the way Jen has brought this summery orange dress into autumn by adding a warm coat, Bobbi Black ankle boots, and swagger.  
By adding a long sleeve top under her handmade dress, @bozz.lyons has made this a year round dress. Adding our Bobbi Mustard Yellow boots keep her feet dry and allow the dress to really pop!  
We love this styled shoot from @theconcept.photographer highlighting how rain boots, coats, and dresses can be the perfect high-fashion combination. 
Layers of neutral plaids pair perfectly with our Bobbi Black ankle rain boots.  
Long socks and a cute sweater to carry a summery full skirt and Bobbi Alpine Green rain boots into fall... 
… or style with your Bobbi Mustard Yellow rain boots!
Celebrate time spent with friends in matching skirts and Bobbi wellies! Simply add a pair of tights or a leather jacket to bring the summer skirts into the cooler seasons. 


Stay Merry everyone! xx